KE6RMC
Hi. I am John, KE6RMC from Santa Rosa, CA. I have been liscensed about four years and enjoy the hobby. If you are in the area give me a call on the local club repeater on 146.73 - 88.5 . I also monitor 145.35 - 88.5 so try that if I cannot be found on the other one.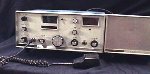 My Ham station includes a 5/8 wave ground plane anntenna, a Yaesu Ft-530 and several other non-ham radios. The picture to the left is of my 20, 40, 80M NCX3 transceiver (click on the picture for a larger image). I have made a couple anntennas such as a ladder line j-pole and a 440 1/4 wave ground plane. If you are interested in putting these together, write me for details.

After my Yaesu ft-2100 was stolen while I was in Reno, I replaced it with a very nice Yaesu ft-8100. I highly recommend this radio as a great, versatile radio. To protect it from future theft I have designed a security device. Check my Security Device page for more details.

A great place to look up call signs in a hurry and check on recent issued callsigns is the FCC Database.
Good Santa Rosa Repeaters
If you are ever in town and want to try some good repeaters try these.

146.730 - 88.5; Sonoma County Radio Amateurs
145.350 - 88.5
146.910 - 88.5
145.190 - 88.5
147.180 + 151.4; not a great repeater, but sometimes useable...
441.375 + no PL; Sonoma County Radio Amateurs