THE QUADRANT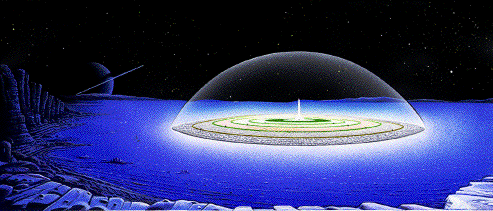 A Thousand years ago, travellers from a war ravaged and dying Earth, fearing extinction, sought out and built a temporary enclosed world called The Quadrant on Titan, the largest of Saturn's moons. From here they explored the stars of deep space, searching in vain for a habitable planet to colonize. After a few generations, the original mission was forgotten, and The Quadrant gradually devolved into a strange life of its own.

Let Q-Kabbie Barlo Tepik take you on a guided tour of The Quadrant.

Embark by speedtube or AirSkimmer for the Outer or Inner Boardz, and Conzec Board -- or, take the pedways to The Inztitut and The Quarter. All major locations in The Quadrant, including the dreaded Downshaft, can be reached from Krania Station.

Go directly to the Main Story Page where you can access the Prologue, check out Biographies (including pictures) of the Major Characters, and read a Story Episode.
Review the latest bulletins and reports from "SysProg" (System Programming), The Quadrant's news and information broadcasting service.
Discover detailed background information about the world of The Quadrant and its people in this "User's Guide."






Created by Richard Gabrio
Designed & Written by Richard Gabrio, James Rintoul & Michael Friedman
Illustrated by James Taylor
Scans by Craig "Scanman" Battles

(C) 1997, 1998, 1999, by Richard Gabrio, all rights reserved
For questions and comments E-Mail qman@pon.net